On Thursday, November 3, 2022 UEDA celebrated 25 years of supporting individuals and groups in the community and economic development sector at our Annual Community Gathering with nearly 60 of our closest friends, members and partners.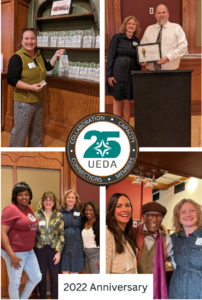 We enjoyed food and beverages from Turning Tables MKE and attendees received a special gift acknowledging the ways we seek to connect and support our members.
UEDA's Executive Director, Kristi Luzar, shared recent updates with the network and reminisced about UEDA through the years via these UEDA Highlights, a snapshot of the projects and programs we've been involved in over the years.
Lastly, we recognized the following individuals for their commitment to UEDA and their community, who exemplify our values of collaboration, capacity and connection.
Outstanding Community Partner
Brian Peters, Independence First
Extraordinary Volunteer
Maria Prioletta, City of Milwaukee Department of City Development
Check out a full recap / slideshow here.
Thank you to those who joined us! It was a classic UEDA event of connection and fellowship.