Through the years, UEDA has transformed to fit the needs of our growing community and member base. We have grown into our role as a third-party intermediary, and have evolved with a focus on our members and our three c's: collaboration, capacity building and connections.
UEDA's membership network has over 300 individuals from more than 95 nonprofits, businesses and government agencies that represent the arts, disability, housing, small business, philanthropic, financial, corporate, local food, entertainment, and governmental sectors. Together, we work to invest in and support initiatives that strengthen Wisconsin communities and urban neighborhoods.



UEDA and the Nonprofit Academy of Wisconsin (NAWi) are excited to announce a new partnership offering capacity building services to nonprofit organizations in the Greater Milwaukee area, building off work that began in mid-2019 to provide organizational-focused technical assistance to nonprofits.
This partnership will strengthen and extend the range of education and consulting services to nonprofits. NAWi will serve as the technical assistance partner for UEDA, focusing on, but not limited to, agencies that receive Community Development Block Grant (CDBG) funding. The NAWi team will include Rob Meiksins, Martha Collins, and Andrea Rodriguez, who will work with UEDA to deliver these services. Our Technical Assistance Advisory Committee will provide guidance to the implementation of this partnership.
"This is an exciting opportunity," said UEDA Executive Director Kristi Luzar.  "We have been working with nonprofits in the community and economic development sector for a long time but have had limited capacity ourselves to reach more nonprofits. This partnership with NAWi provides that."
Our shared goal is to help nonprofits be intentional about how they build and strengthen their organizations and is based on the Standards for Excellence, a nationally recognized organizational model that NAWi has followed since its inception. The Standards are a set of competencies that are used as a lens to review where a nonprofit organization is in terms of governance and operations. Our approach is to then work with the nonprofit to see how they want to adapt what the Standards recommend to align with the nonprofit's mission, culture, age, and size with an eye towards organizational sustainability.
"We have been working together for a couple of years now," said Rob Meiksins, co-founder and President of NAWi.  "It has been a good working partnership between UEDA and NAWi, and this seemed like a natural progression."
To launch this new partnership, we will offer a free two-part introduction to the Standards model and how it can benefit nonprofits on May 31 and June 7. Sessions will be 90 minutes and led by Rob and Martha of NAWi, who are both certified consultants in the Standards for Excellence. The Standards are made up of 6 guiding principles, and each session in this webinar series will cover three of the Standards and how nonprofits can implement them.
Any organization that completes both sessions will be given access to a very brief version of a survey to compare how the organization functions in relation to the Standards. Then, we will offer a 1-hour follow-up session to review the findings and help organizations start thinking through how a full organizational review can help them deliver on their mission. Pre-registration for these introductory sessions is required.
Register for Session 1 (Mission Strategy and Evaluation, Leadership, Legal Compliance and Ethics)
Register for Session 2 (Finance and Operations, Resource Development, Public Awareness, Advocacy)
Moving forward, UEDA and NAWi will also focus on serving agencies that receive CDBG grant funding from the City of Milwaukee, who will now have access to help with a variety of services including consulting and conducting an assessment of how your organization is functioning. Contact NAWi here or by calling 414-367-8209 if you are interested (must be a 2022 CDBG funding recipient).
Lastly, this program partnership will also leverage and support Nonprofit Lift, an initiative that began through a collaborative effort in 2021 with other intermediaries that support nonprofit organizations in the metropolitan Milwaukee region. Nonprofit Lift recently launched a resource website and consultant directory and we are excited to align our work with this important effort. Learn more here>>
We are pleased to share a new resource, www.NonprofitLift.org, for nonprofits in the Greater Milwaukee Region is now available!

This resource went live on May 3rd and is the product of collaborative work UEDA has been engaged with other intermediaries that work to support the capacity of nonprofit organizations. Nonprofit Lift's website provides:
An easily searchable directory of 50+ consultants to nonprofits in the Greater Milwaukee Region (and beyond, in most cases)
Sources for nonprofit training and professional development
Resource lists for starting and for running a nonprofit
Resources for nonprofit sector data, research, and news
Many of these resources are also available to nonprofits throughout the state. Special thanks to the Nonprofit Management Fund for their financial and technical support, which helped create the platform for the website and consultant directory.
More About Nonprofit Lift
This collaboration of capacity-building intermediary and philanthropic organizations in Wisconsin formed last year in response to the challenges facing the nonprofit community in the Greater Milwaukee Region. In 2021 we held several town hall discussions with nonprofit and philanthropic leaders, after reviewing the results of the Understanding and Supporting Milwaukee Nonprofits study conducted by Project Pivot and the Helen Bader Institute for Nonprofit Management at the University of Wisconsin-Milwaukee in 2019.
The study and town hall discussions helped identify areas of need and nonprofit resource limitations in the Greater Milwaukee Region, leading to the development of Nonprofit Lift and the resources you can now find on their new website. We are continuing to work in partnership on additional steps to make capacity-building services and resources more accessible to nonprofits in the Greater Milwaukee Region.
Nonprofit Lift is a collaboration of the Helen Bader Institute for Nonprofit Management at UW-Milwaukee, Jobs That Help, Project Pivot, the Nonprofit Academy of Wisconsin, Nonprofit Management Fund, Urban Economic Development Association of Wisconsin, and Create Wisconsin (formerly Arts Wisconsin).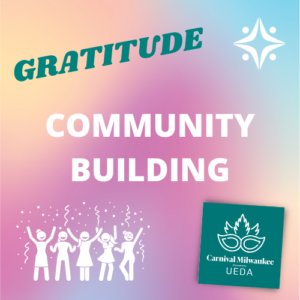 Held February 28 – March 4, 2022, our 14th annual Carnival Milwaukee fundraiser was a week-long virtual celebration that focused on giving back to the local businesses and partners that have supported UEDA and this event over the years. During the 5 Days of Carnival Milwaukee celebration we:
Partnered with 4 restaurants for Dining Deals (Amilinda, Antigua Latin Inspired Kitchen, Orenda Cafe, Sam's Place Jazz Cafe).
Had 100+ attendees at our virtual "Fat Tuesday Fun Day" lunchtime event.
Distributed 90+ goodie bags featuring local products from Kilwin's, Swaye Tea and our sponsors.
Provided 23+ hours of Carnival-themed content via email and social media.
Additionally, we recognized ArtWorks for Milwaukee as our fifth Carnival Milwaukee Bridge Builder, an award that "recognizes a community member or partner for their efforts to honor diversity and connect people and places through the expression of culture in food, art, music and space."
A longtime member of the UEDA Community, ArtWorks for Milwaukee's commitment to connecting youth to experiences that foster creativity and learning through people and place, while lifting up Milwaukee's diverse neighborhoods, exemplifies the spirit of this award. They join previous Bridge Builder Awardees Diverse Dining, VIA CDC, Milwaukee Public Library, and 88Nine Radio Milwaukee, who are all shaping our community in creative ways!
Along with our Sponsors, nearly 60 individuals made contributions to UEDA, helping to support program areas that focus on stable rental housing, sustainable homeownership, financial inclusion, and small business support. also, through our Dining Deals, individual donations, and event sponsorships, we were able to invest more than $3,600 into 17+ local, small businesses that have supported this event in the past!
Throughout the 14 year history of Carnival Milwaukee, UEDA has had the privilege to work with many local food enterprises who have been an integral part of what makes this annual fundraiser so special. We hope you will continue to support them as they have supported UEDA!  View UEDA's Carnival Milwaukee Food Tasting Feature Here
THANK YOU TO OUR 2022 SPONSORS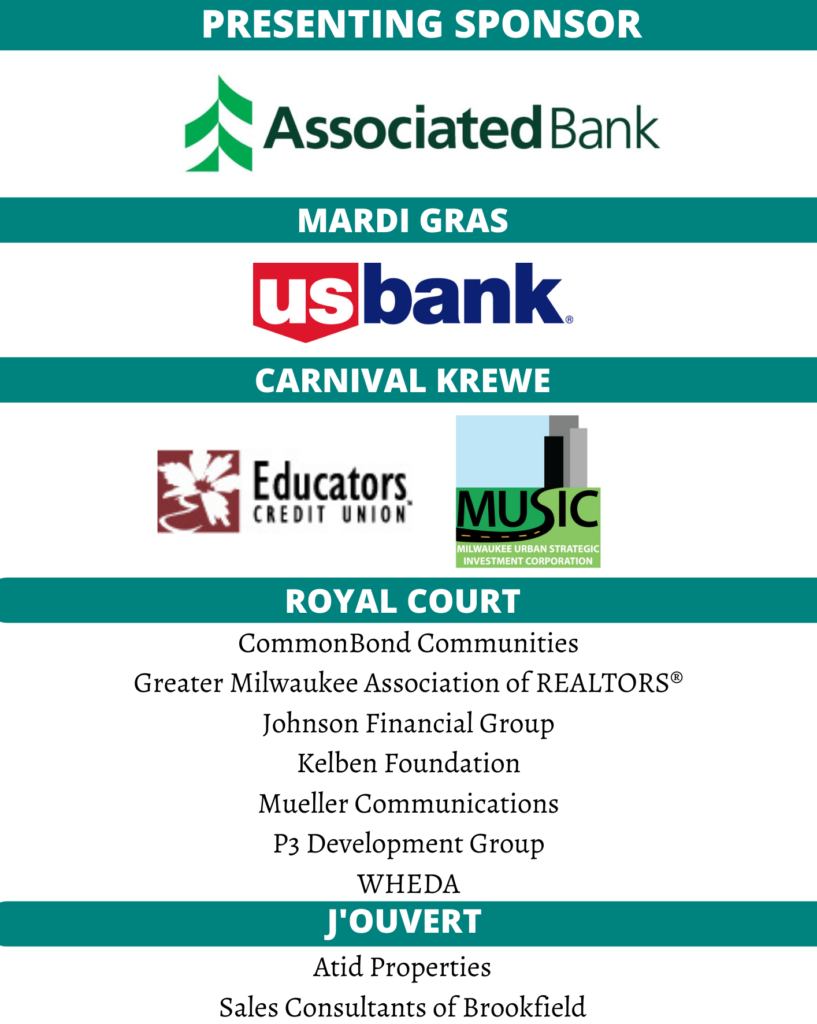 At the end of 2021 we reflected on the inspiring work we were a part of in the UEDA Community, took the opportunity to thank our members and partners, and shared our optimism for what to expect in 2022.  View our New Year video message here.
We also invite you to view our 2021 UEDA Impact Report and our UEDA 2021 Year in Review Slideshow, which summarizes last year's programs, activities, and events. We helped increase collaboration, capacity, and connections in the community and economic development sector through:
Growth of our membership network by 8% and more people and groups participating in our programs and events.
A 42% year-over-year increase in outreach and educational webinars/events across all programs, reaching 1,100 people and connecting them to information and resources related to critical housing, community and economic development issues.
After experiencing program and staff growth for 2+ years, two of our staff transitioned to pursue new opportunities with State partners. We are excited to watch Johanna Jimenez continue shepherding the launch of Take Root Wisconsin and Jessica Wetzel supporting the growth and impact of the State of Wisconsin's College Savings Program. We truly appreciate all they've done to support UEDA!
In November we welcomed Kat Klawes as our Communications & Events Coordinator and hope to add our next Take Root Milwaukee Program Director by the end of February 2022.
Be sure to mark your calendars and join us for Carnival Milwaukee Week, UEDA's annual fundraiser, which will be held February 28-March 4, 2022. 
While 2021 continued to bring its challenges, it also offered up many moments of inspiration.
We THANK YOU all for your interest, engagement, and support of UEDA!
The Staff and Board of Directors at UEDA