Since 2018, UEDA has hosted the Emerging Topics in Economic Development Series to provide frequent and intentional opportunities for our members and partners to connect, learn new ideas, and feature best practices in the sector.  
Our 2021 series featured recent housing development and planning efforts in Milwaukee, highlighting different yet collective approaches to affordable housing work. Below you will find a brief recap and links to resources for each session.
We'd like to extend our sincere thanks and appreciation to the following sponsors for their support of this educational series.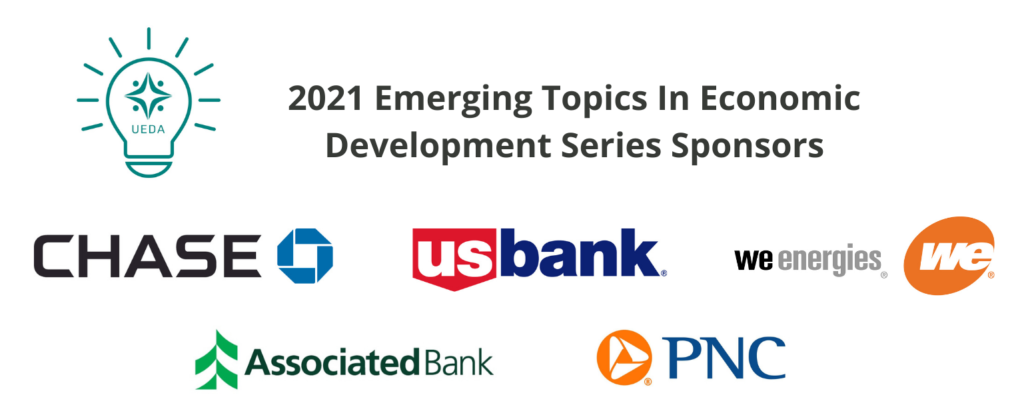 Session 1: Revitalization Through Preservation | July 13
Husch Blackwell and the Milwaukee Preservation Alliance joined us for an informative session on how to approach different types of historic preservation projects, the benefits of using historic tax credits, and also received an in-depth look at the Milwaukee Soldiers Home restoration project. View the session recording here. And more recently, the Soldier's Home project was recognized in December 2021 with an award for Excellence in Historic Preservation by HUD and highlighted in a recent story on WUWM.
Session 2: City of Milwaukee HUD Consolidated Plan Navigators | September 15
This session took a deep dive into the City of Milwaukee's HUD-approved 2020-2024 Consolidated Plan, sharing what types of data are included, how to find and use that data, and how community-based organizations and private sector partners can align their work to complement the goals and outcomes outlined in the plan. The UEDA team created 10 topic "navigators" designed to help people easily access information in the plan. View the session recording here and find the full plan and Navigator tools at www.ConPlanMKE.org
Session 3: Milwaukee's Collective Affordable Housing Strategic Plan | October 22
Our last session featured Milwaukee's Collective Affordable Housing Strategic Plan (released in September 2021), and was held in partnership with the Community Development Alliance (CDA) and City of Milwaukee. It was an active, virtual session with attendees providing feedback on how to best structure implementation of the three top approaches that have been identified as priorities for 2022. View the session recording here and presentation slides here.