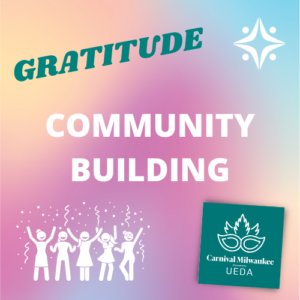 Held February 28 – March 4, 2022, our 14th annual Carnival Milwaukee fundraiser was a week-long virtual celebration that focused on giving back to the local businesses and partners that have supported UEDA and this event over the years. During the 5 Days of Carnival Milwaukee celebration we:
Partnered with 4 restaurants for Dining Deals (Amilinda, Antigua Latin Inspired Kitchen, Orenda Cafe, Sam's Place Jazz Cafe).
Had 100+ attendees at our virtual "Fat Tuesday Fun Day" lunchtime event.
Distributed 90+ goodie bags featuring local products from Kilwin's, Swaye Tea and our sponsors.
Provided 23+ hours of Carnival-themed content via email and social media.
Additionally, we recognized ArtWorks for Milwaukee as our fifth Carnival Milwaukee Bridge Builder, an award that "recognizes a community member or partner for their efforts to honor diversity and connect people and places through the expression of culture in food, art, music and space."
A longtime member of the UEDA Community, ArtWorks for Milwaukee's commitment to connecting youth to experiences that foster creativity and learning through people and place, while lifting up Milwaukee's diverse neighborhoods, exemplifies the spirit of this award. They join previous Bridge Builder Awardees Diverse Dining, VIA CDC, Milwaukee Public Library, and 88Nine Radio Milwaukee, who are all shaping our community in creative ways!
Along with our Sponsors, nearly 60 individuals made contributions to UEDA, helping to support program areas that focus on stable rental housing, sustainable homeownership, financial inclusion, and small business support. also, through our Dining Deals, individual donations, and event sponsorships, we were able to invest more than $3,600 into 17+ local, small businesses that have supported this event in the past!
Throughout the 14 year history of Carnival Milwaukee, UEDA has had the privilege to work with many local food enterprises who have been an integral part of what makes this annual fundraiser so special. We hope you will continue to support them as they have supported UEDA!  View UEDA's Carnival Milwaukee Food Tasting Feature Here
THANK YOU TO OUR 2022 SPONSORS